Jenni Brandon
Jenni Brandon is a composer and conductor, creating music in collaboration with other musicians and artists. She has written over 50 works telling stories through memorable musical lines influenced by nature and poetry. Commissioned to write music from solo to orchestral works, her music appears on over 20 albums.
Spider Suite is very much composed in the style of romantic impressionism. Think Beethoven's Pastoral Symphony, Ravel's Rhapsodie Espagnole, Franz List's "Un Sospiro". Impressionism is music that creates an aural and visual image of something in nature through music.
Brandon has managed to document through music the life of a spider. From spinning webs, capturing bugs, and tearing down everything to begin again. The melody played by the bassoon in the second movement is a theme that reappears in several different ways throughout the piece.
Alexandre Tansman
Alexandre Tansman is a Jewish-Polish composer whose work was notably catapulted into "gravitas" in the 1920s. Primarily a composer of instrumental music, his themes are easily recognizable throughout his portfolio of work. Tansman was mentored by some of the most influential French composers; namely, Igor Stravinsky, Jaques Ibert, Sergei Prokofiev and more.
Tansman has always paved his own way through his career, giving up positions at law firms upon completing his law degree in Poland. The most notable career choice he made was declining an invitation to join les Six, which was the composers' equivalent of the "group of six" (The Canadian Consortium of Artist) in art. Tansman felt that he would better serve his musical community by not having his musical ideas muddied by the ideas and opinions of other composers in the group.
Tansmans' music is also the signifier for French Councours, musicians that master his complicated technical passages are deemed to be proficient technicians in their own right.
Mary D. Watkins
Trained in classical music at Howard University, Mary D. Watkins has composed three operas and has written for symphony orchestras, chamber and jazz ensembles, film, theatre, dance, and choral groups, in addition to being a popular recording artist for Olivia records in the 1970s.
Mary D. Watkins has composed instrumental music for individual performers, theatrical productions, films, and symphony orchestras. The music has been performed by the Berkeley Symphony Chamber Orchestra, Richmond (VA), Chamber Orchestra, Rohnert Park Symphony, Palo Alto Philharmonic, The Women's Philharmonic Orchestra, Camellia Symphony Orchestra, Plymouth Symphony, and The New Black Music Repertory Ensemble of Chicago, among others. See the discography below for her recorded compositions.
Jeff Scott
Composer and Imani Winds member Jeffrey Scott is a native of Queens, NY. He started the French horn at age 14, receiving an anonymous gift scholarship to go to the Brooklyn College Preparatory Division. An even greater gift came from his first teacher, Carolyn Clark, who taught the young Mr. Scott for free during his high school years, giving him the opportunity to study music when resources were not available. He received his bachelor's degree from Manhattan School of Music (studying with David Jolley), and master's degree from SUNY at Stony Brook (studying with William Purvis). During those years Mr. Scott studied with Jerome Ashby, David Jolley, Scott Brubaker and William Purvis. He later continued his horn studies with Scott Brubaker and the late Jerome Ashby.
Mr. Scott's arranging and composing credits are many, and include scoring the off-Broadway production of Becoming Something, The Canada Lee Story, the staged production of Josephine Baker: A Life of Le Jazz Hot!, and many arrangements and original works for solo winds, wind and brass quintet, horn quartet, and jazz ensembles. Mr. Scott's works are published by International.
Sylvia Glickman
New York born pianist and composer, she received Bachelor and Master of Music degrees from The Juilliard School and an L.R.A.M. in performance from the Royal Academy of Music in London. Winner of prizes for both performance and composition, including a Solo Artist Fellowship from the National Endowment for the Arts, a Fulbright Scholarship and grants from the Pennsylvania Council on the Arts, she has performed to critical acclaim in solo and chamber concerts on four continents. She received the 1995 Award for "Distinguished Service in Support of Concert Music Composed by Women" from the New York Women Composers, Inc.; annual Meet-the Composer and ASCAP Awards; and commissions from the PA Council on the Arts, the Pro Arte Chorale, the Huntingdon Trio, the Lehigh Valley Chamber Orchestra, Network for New Music, and the Schuylkill Symphony Orchestra.
Erin Goad (Webber)
Erin Webber is an oboe and English horn specialist in San Antonio, TX. She is principal oboist with Symphony Viva, South Texas Symphonic Orchestra, and the San Antonio Sinfonietta, and is a founding member of SAHarmonie. She is the instructor of oboe at the University of the Incarnate Word, as well as teaching a full studio of middle and high school students. She operates a thriving small business, Erin's Oboe Reeds. During the summer, Erin teaches reed making and coaches chamber music through the Bocal Majority summer camp program. She earned her Master's in Music Performance at Arizona State University, studying with Martin Schuring and her Bachelor's in Music Performance at Western Kentucky University, studying with Dr. Michele Fiala. Erin is a published composer and has two compositions available through TrevCo-Varner Music under her maiden name of Goad: "Overheard on a Saltmarsh" and "The Journey." Erin lives in San Antonio with her husband, Chad, along with a bunny, three cats, a fish, and a bearded dragon
Emily Suzanne Shapiro
Emily Shapiro is a bass clarinetist and clarinetist dedicated to exploring and creating new music.
Originally from Canada, Emily pursued her studies at the University of British Columbia, Vancouver Academy of Music, Concordia University and the Domaine Forget academy. Emily has a special love for the sound and scope of bass instruments and constantly pushes the limits of what she can do on bass clarinet.
Alongside performing contemporary music on bass clarinet, Emily is involved in many other musical endeavours. Composing and improvising are central to her career, and she has been an active performer of Balinese gamelan for 10 years and has also explored jazz, klezmer, rock and electroacoustics. She is always seeking out new artistic experiences to enrich and motivate her work.
She is a proud member of Duo Arasari, the London Improviser's Orchestra, the Corner Quartet and Lila Cita and has performed all over London, including iklectik, Café Oto, Hundred Years Gallery, LSO St Luke's, the Vaults festival, the Barbican and many more. She founded and manages the Mellifera arts platform, a monthly interdisciplinary arts performance event.
Outside of music, Emily loves gardening, running, whisky and making friends with animals.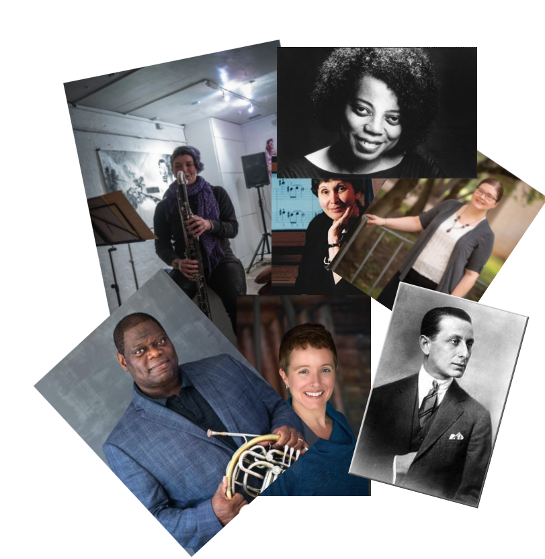 Untitled Ensemble Performers
Untitled Ensemble Livestream Technicians
Composers Website Links


© Copyright Untitled Ensemble