Iraj Tamadon-nejad - bassoon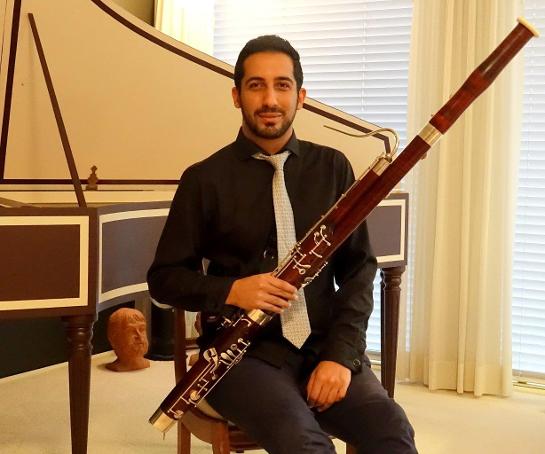 Iraj Tamadon-Nejad is a native of Toronto, Ontario and holds degrees from The University of Toronto, University of Western Ontario and the University of British Columbia. Some of his teachers include Michael Sweeney, Fraser Jackson, Jesse Read and Nadina Mackie Jackson. Iraj was principal bassoon of the KW Chamber Orchestra and the Stratford Civic orchestra, where he learned to refine his skills as an orchestral bassoonist.
Iraj also served as section bassoon of Kamloops Symphony and contrabassoon of the Okanagan Symphony.In 2013, on a trip to Asia, Iraj succeeded in landing Principal Bassoon of the Seoul City Orchestra and the Camarata Symphony and Chorale, where he had the honour of performing alongside some great musicians and premiered the music of fellow bassoonist and composer Mathieu Lussier on national television. During his brief tenure in South Korea, he did outreach as an assistant conductor of the Camarata Children's Chorale working alongside with Dr. Ryan Goessl.
In 2018 Iraj joined the Thunder Bay Symphony Orchestra until the end of 2019. Iraj has also performed all over Canada, Asia, and the Middle East as a soloist and orchestral bassoonist. Iraj has also performed with London Symphonia (formerly Orchestra London), musicians from the Toronto Symphony and the Vancouver Symphony and is a respected orchestral and chamber musician. Iraj also serves as the Assistant Choirmaster of the Thunder Bay Symphony Chorus and is the librarian of the TBSO.
When Iraj has some down time, he enjoys hanging out with his dog Master Frank

© Copyright Untitled Ensemble